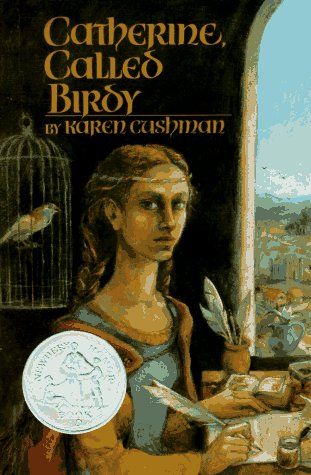 Written in diary format, this is the chronicle of a year or so in the life of a 13-year-old girl living in England in the year 1290. She is the head-strong daughter of a minor knight, assigned by her monk brother the task of writing about her days. She writes of her frustrations at the life she is destined to live, married off to the highest bidder, sewing sheets, making soap, having children... She also writes of the life of the villagers she knows, including Perkin the goat boy, Meg the milkmaid, Gerd the baker's son, and so on. She sees their lives as delightful and free compared to her own - they are allowed some say in who they marry, and can come and go as they please (vs her own relative captivity in the manor). She laments that if she must be born a lady, why not a rich one who wouldn't have to hem shirts and sew sheets and embroider for the church? She is restless and clever, and easy to identify with if you're at all familiar with what it feels like to be 13 in any era.
The book is enjoyable enough that you hardly notice when the author slips in informative things like herbal remedies of the time, how a 30-year-old woman was considered fairly old, what it meant to go to a medieval fair, social structure, and the difficulties of travel at the time. It makes it easy to imagine medieval life, and to see how being 13 in 1290 might not have been as different from being 13 today as you might have thought. Would be a good companion to
Good Masters! Sweet Ladies!
.